We're pumped for pumpkins, y'all. The color, the spice, the photo potential … yep, Bastrop, TX is all in for all of it. As National Pumpkin Day on October 26, 2022, draws near, set your getaway plans to attend two of the best fall festivals in Central Texas. Head this way for pumpkin patches, hay rides and great food. It's time to get your pumpkin time in. Here's what you don't want to miss in Bastrop.
Barton Hill Farm's Fall Festival – Oct 1st – Nov 7th
Now in its 11th year, the annual Barton Hill Farm's Fall Festival and Pumpkin Patch is open every Saturday and Sunday from 10am – 6pm. Set amidst 100-year-old cottonwoods overlooking the Colorado River, it's about as charmingly fall as it gets. Find your way through a 5-acre corn maze, pick a pumpkin, catch live music in the Biergarten, sip a sangria or cold brew, fire apple cannons, hop on a hayride, watch a duck race or choose from any of the 30+ activities they offer. This is arguably the best pumpkin patch in Central Texas, y'all.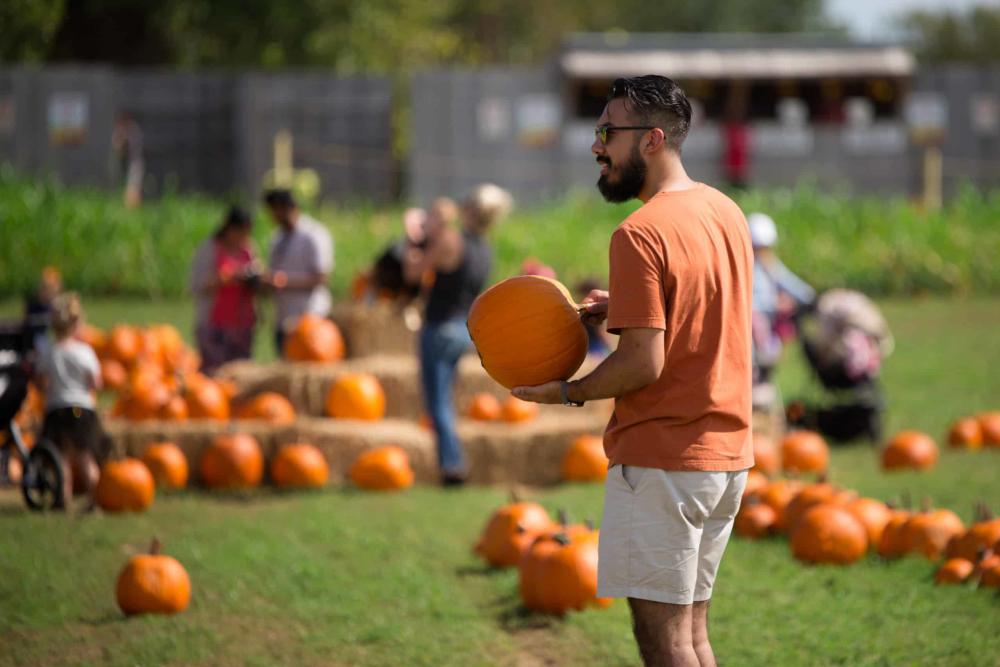 Whispering Pines Harvest Fest – Oct 1st – 31st
Proof that we honestly cannot get enough of fall – there are two awesome fall festivals in Bastrop. The Whispering Pines Harvest Fest is open on Saturdays from 11am to 6pm and on Sundays from 1pm – 6pm. They have more of a one-ticket-to-enjoy-all-kinds-of-stuff approach. They have a pumpkin patch, bounce house, hay ride (that's $3 extra per person ages 3 and up), games, music and of course, food and drinks. There's a fun craft fair to explore too. Admission is just $10 per adult and children 12 and under are free.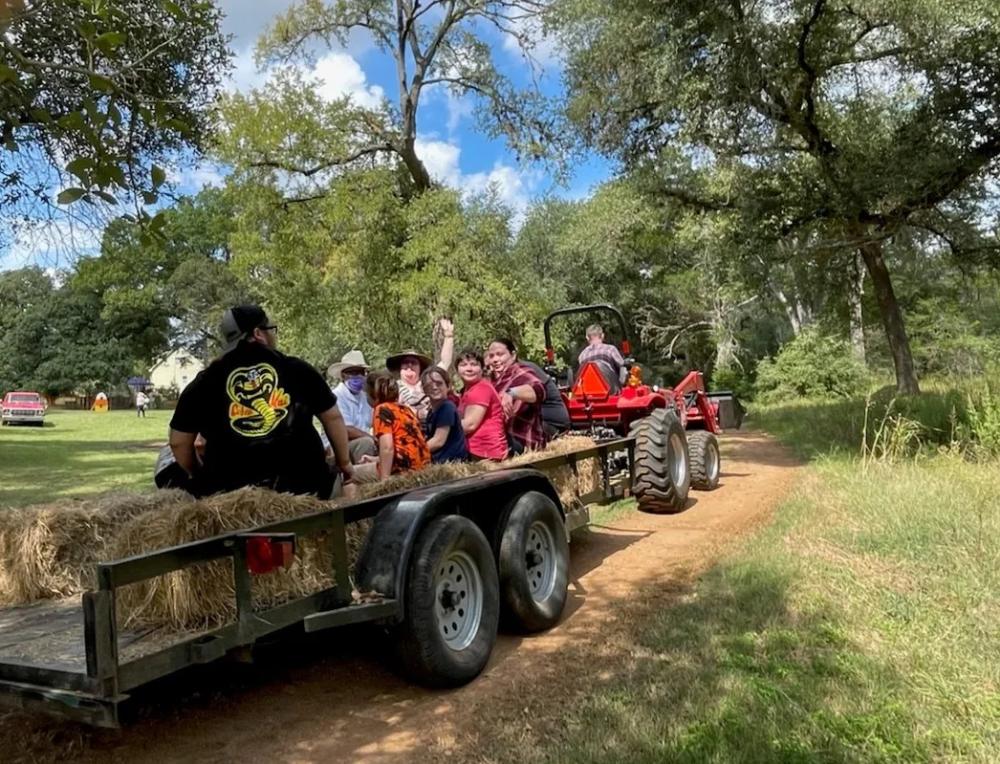 Pumpkin Patch at Community Gardens – Oct 1st – 31st
Every year this just keeps getting bigger and bigger. Granted, big is kind of a TX trademark and the Pumpkin Patch at Community Gardens does that well. Returning for their fifth year, they've got pumpkins, train rides, a bounce house, pumpkin painting, playscape, kids' activities, food, a coffee shop and a full bar. Admission is free, train rides are $3, pumpkin painting is $6 and the wristband to do the rest is $8.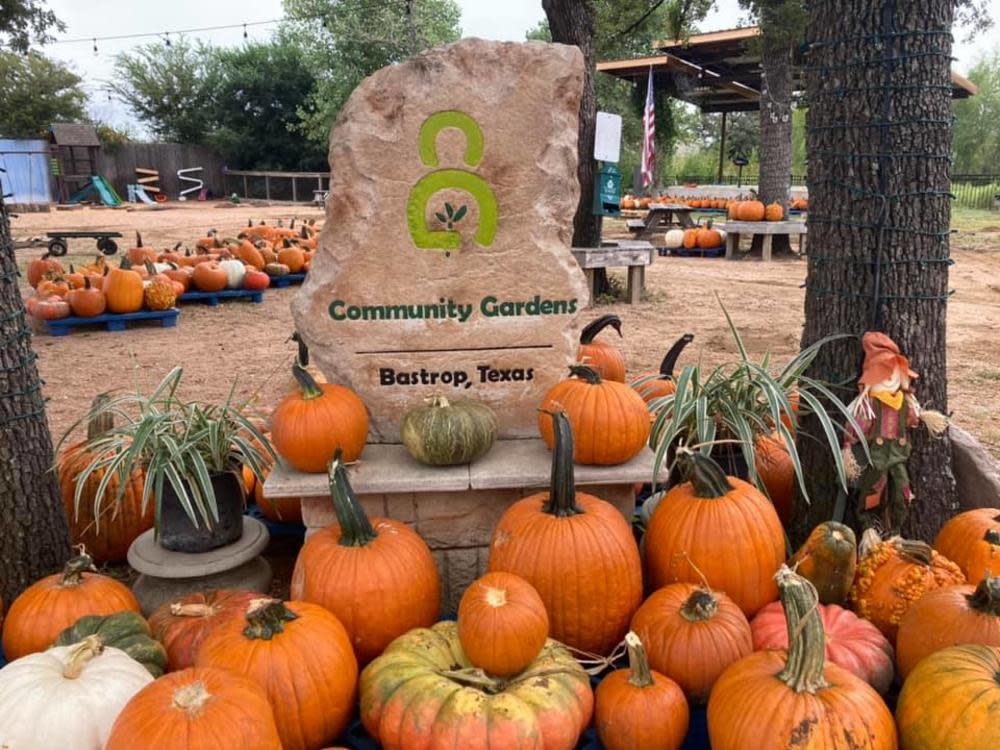 Hey Pumpkin – Watercolor Workshop – Oct 8th
Painting doesn't have to be on a pumpkin. At this watercolor workshop at the Lost Pines Art Center, Ms. Carol Sue Witt will take you through a pumpkin portrait on pre-drawn watercolor paper. The class is meant for beginners to intermediate, and Ms. Witt is truly one of the best at teaching this being a signature member of the Texas Watercolor Society and a member of Austin's Waterloo Watercolor Group.
Pumpkin Treats
The Coffee Dog Roastery is sure to have something warm and pumpkiny for you to devour. Tough Cookie Bakery is another fantastic place to grab a pumpkin treat, be it a coffee or fresh pastry. If you'd like to relive your trick-or-treat days, then check out the nostalgic candy over at the Sugar Shack. They carry more than 100 bulk candies, plenty from your own childhood and they serve awesome shakes too.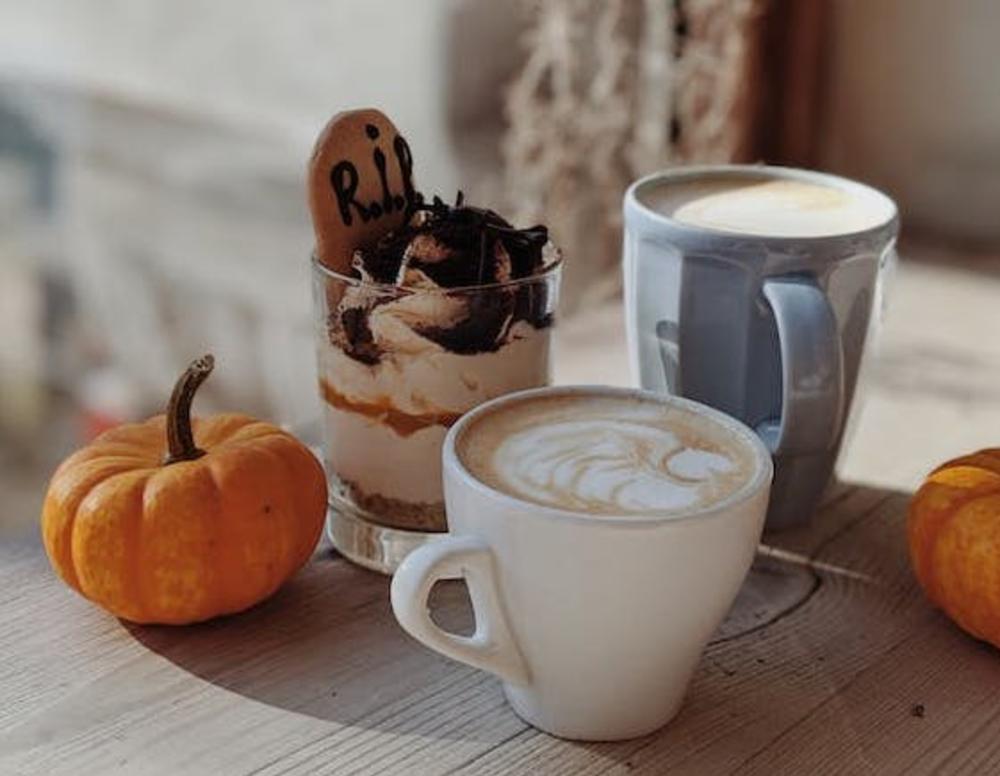 Pumpkin It Up in Bastrop, TX
Being out in the country, we've got a lot of room to do fall right. Plus, it's definitely one of Bastrop's favorite seasons and it shows. Whether it's a weekend getaway or just a day trip, start planning your visit to Bastrop today. Be sure to get on our email list as well, for all the latest Bastrop happenings.