Hello, al fresco! Head to Bastrop, TX for excellent food and great views. Bastrop has that small-town charm with tons of fresh air and beauty to spare thanks to it being so close to the Colorado River and some large state parks. Read on for the best spots to chill in the open air and chow down on good eats in Bastrop.
Roam Inside Community Gardens
There are all kinds of interesting things to check out at Community Gardens in Bastrop, one of the tastiest being Café Aroma. They're known for their truly great coffee and gelato, sometimes combined together like in their unique Affogato, espresso poured over locally-sourced gelato. They serve pastries as well. Perfectly positioned inside Community Gardens, this is a beautiful spot to relax and do some plant shopping. You can even work all day here through their shared-office Work With Perks program.
Also located right inside Community Gardens is Heroes Sports Bar. Dining is inside, but you can grab a drink and browse among the many beautiful plants and ponds inside the nursery. They have live music and trivia nights on occasion. Their menu offers tasty sports-friendly eats like a soft pretzel, big burgers, sandwiches, gelato and more.
Dine Along the Colorado River
Get a big breath of fresh air and a table down by the Colorado River at Neighbor's Kitchen & Yard. It's located in this beautiful historic building and has a big yard where you can eat outside and play washers with the kids. Their inventive menu puts a spin on classics like pizza, calzones, soup, salad and more. They also have several craft beers on tap.
Boasting perhaps the best view of the Colorado River in Bastrop, Iron Bridge Icehouse definitely has a lock on the best view of the iconic Bastrop Old Iron Bridge. They specialize in craft beer and rotate their inventive flavors frequently such as Hibiscus Shandy Pale Ale, Mango Gose and Chocolate Raspberry Porter among many, many other options.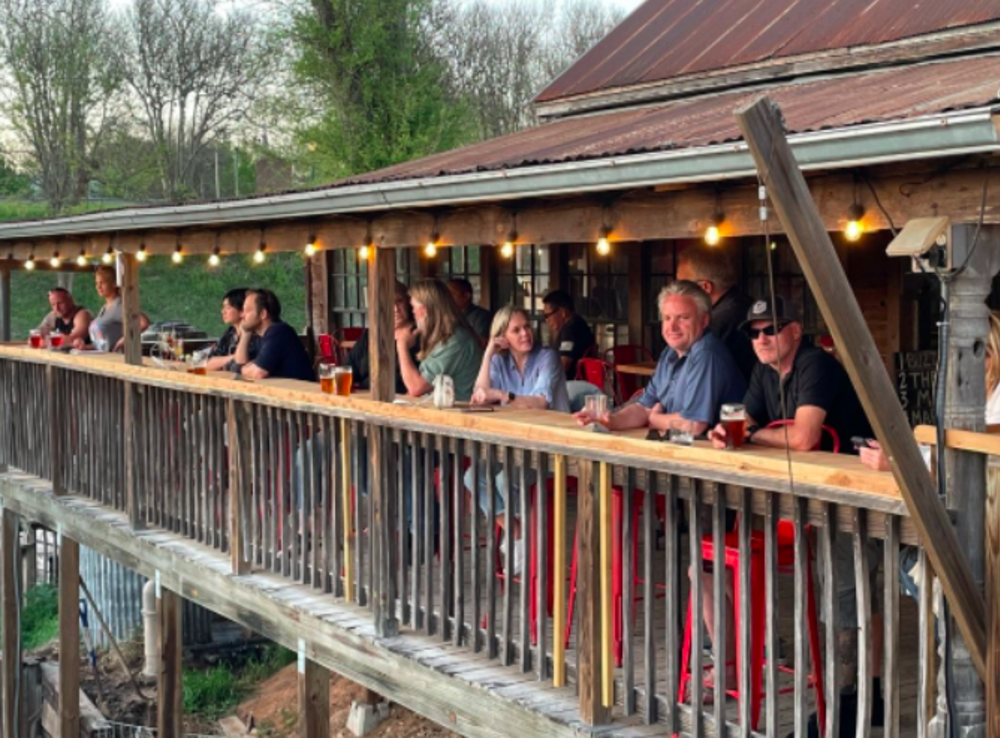 Eat in the Open Air in Downtown Bastrop
Soak up the historic charm of Downtown Bastrop at the 602 Brewing Company. Their Southern comfort food is absolute heaven and their covered outdoor patio has been remodeled with a classy rustic Texas theme. Expect to find great food and good times at this downtown treasure.
Chef Sonya Cote from @edeneastaustin liked Bastrop so much that she made it her new hometown and opened her Store House Market & Eatery here. It's located in a beautiful two-story historic building with a cute little outdoor patio. Their bright and flavorful menu features seasonal harvest from local Eden East Farms. It's super welcoming and uniquely delicious. You'll love it.
Stephen and Cheri Todee, the husband and wife team at Copper Shot Distillery have a pretty tasty take on great spirits. Stephen loves experimenting and it shows. Just one sip will convince you how good he is at it. Come relax on their outdoor patio. It's the perfect mix of relaxing and fun and features live music on select nights.
Food Truck Finds
A fun food truck destination, the East 40, has 3 acres of family-friendly events, good eats and lots of flea and hand-made goods shopping. There's TONS of outdoor seating, several tasty food trucks and an indoor sports bar. There's a large dance hall too where they play country music Wednesday – Friday and then Tejano music on Saturday and Sunday.
This is one food truck with A LOT of options. They're definitely serious about tacos and have amazing options there, but you can also get snow cones, a quesadilla, enchiladas, tortas, burritos and more. Y'all they do Mexican food right. You won't regret stopping by here.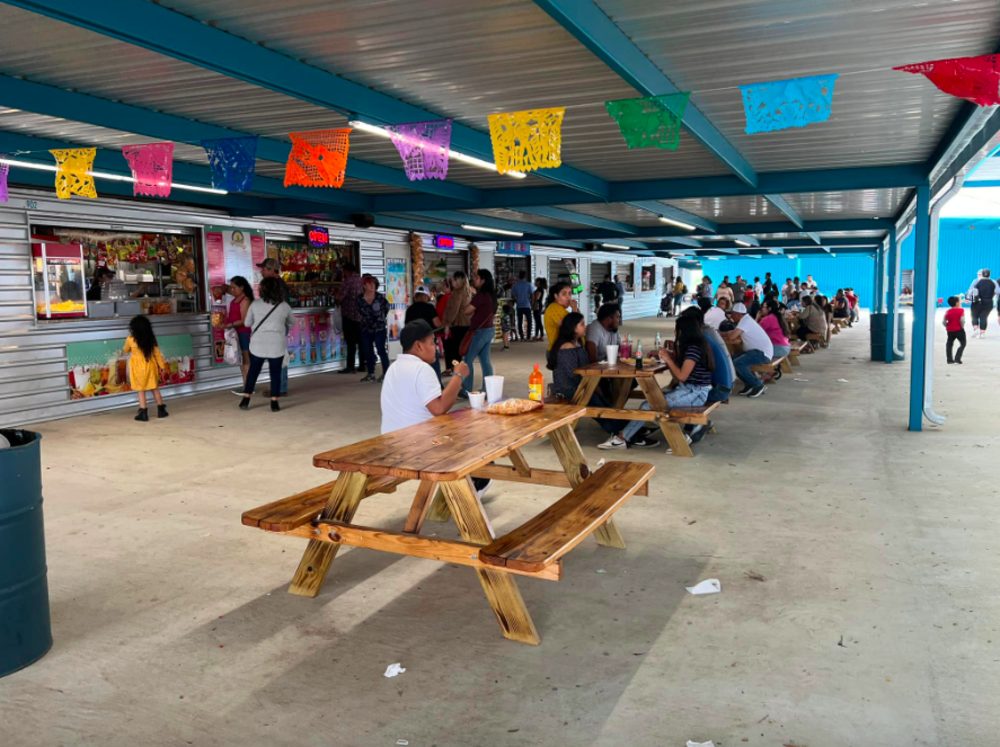 Health & Wellness Vibes
If you're craving an outdoor space with seriously good vibes, then you'll love the patio on the back porch of the Radiant Mama Juice Bar. It's a great creative place to bring your laptop and get some work done while you enjoy their amazing cold-pressed juices, smoothies, grain bowls, salads and more.
Another spot with a focus on whole foods, is the very popular Tough Cookie Bakery. Hang out on their outdoor porch or inside to try their vegan, vegetarian and gluten-free options including breads, pastries, coffee, tea and a few other options like sandwiches, wraps, a tasty salad and more.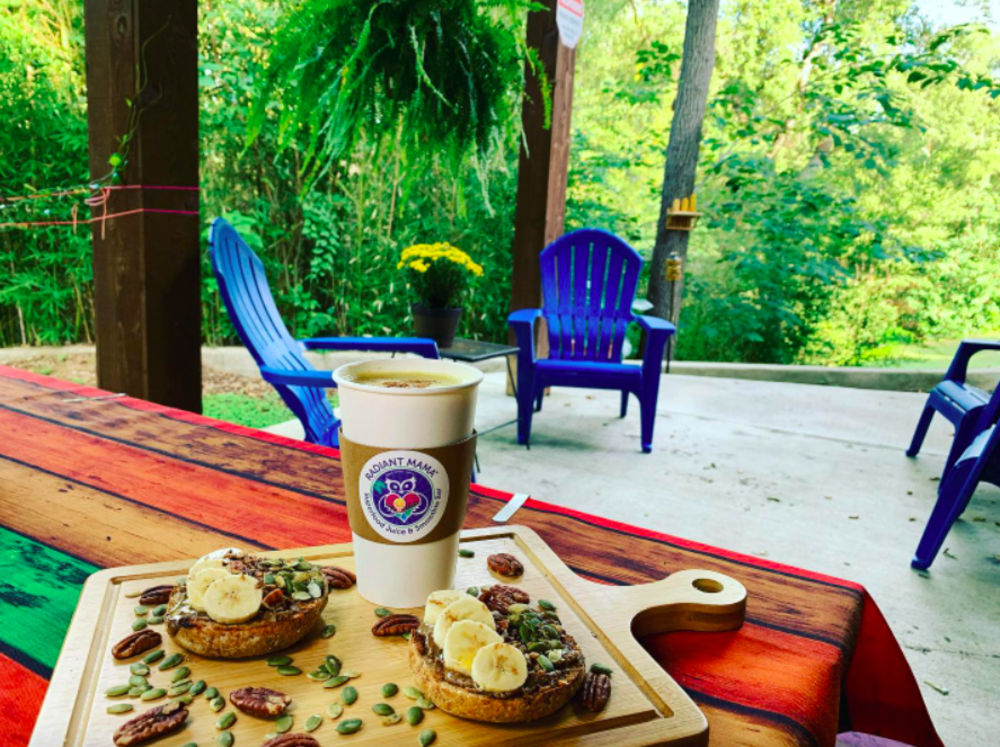 Dine in the Great Outdoors in Bastrop, TX
There's a lot of natural beauty to enjoy in Bastrop, so naturally, most shops and restaurants take full advantage of it for their customers. Come and see for yourself. Plan your visit to Bastrop today! Also, be sure to get on our email list for the latest Bastrop happenings.